New England Mechanical Contractors Association
For over 100 years, New England Mechanical Contractors Association has been a construction industry trade association representing premier mechanical construction firms throughout Massachusetts, Rhode Island, Maine, New Hampshire and Vermont. From building new large scale construction to servicing and maintaining existing facilities, our member contractors employ the most highly skilled and trained workforce in New England delivering cost-effective, timely results and staying abreast of leading-edge technology and industry practices.
We offer membership within the Mechanical Contractors Association, Mechanical Service Contractors Association, and the National Certified Pipe Welding Bureau. We support our member contractors through our educational seminars, labor and government relations, industry news and marketing. Committed to the future of our industry, we sponsor MCA student chapters at Northeastern University and Wentworth Institute of Technology in Boston. Our affiliation with the
Mechanical Contractors Association of America
and our strong, cooperative relationship with the
United Association
enables us to offer our members numerous opportunities to build lasting, beneficial relationships with peers while acquiring the business knowledge and tools to keep their company successful.
"Far and away the best prize that life offers is the chance to work hard at work worth doing."
--Theodore Roosevelt
Recent News
January 2015               
Baystate Franklin in Greenfield breaks ground for $26 million surgery modernization project
GREENFIELD - Baystate Franklin Medical Center hosted a ceremonial groundbreaking Thursday for its $26 million surgery modernization project.  It is a 55,000-square-foot expansion that includes four new operating rooms. It also includes renovation of the largest current operating room and relocation of the endoscopy unit so that it is directly adjacent to surgery.   Work began on the foundation in fall 2014. The building is expected to be completed in fall 2016.  Steffian Bradley Architects of Enfield did the design, Baystate said. Pearson Systems Inc. of West Springfield is the general contractor.  Baystate said the project entails a total of 80,000 work hours for tradespeople. It said that 90 of these construction workers will be from the Pioneer Valley and 91 of them union labor.
Dana-Farber grows personalized medicine research with move to Longwood 
Dana-Farber Cancer Institute has announced plans to expand their precision medicine research with a move into a new space on Longwood Ave.  The hospital is bringing several research programs under one roof and expanding cancer drug development with a move into a new building on Longwood Avenue.  The hospital will occupy 155,000 square-feet, or three floors, of the 10-floor space to bring together and expand several programs centered around cancer drug development.  The renovation will cost upwards of $72 million, and employees are expected to start work in the building as early as next week.
Teachers Union to replace Dorchester HQ
A development team has filed plans with the Boston Redevelopment Authority to replace the Boston Teachers Union building at 188 Mount Vernon St. in Dorchester.  The plan proposes replacing the BTU's existing 32,500-square-foot building with a 52,469-square-foot building which would be used by the BTU, its health and welfare fund offices, an optical shop, a credit union, meeting spaces, conference rooms and function halls. The project would also include building a two-story, 308-space parking garage.
MCA Student Chapter Success Story
Ground Breaking for Boston's Tallest Skyscraper 
On Wednesday, developers formally broke ground for the tallest skyscraper to be built in Boston in 40 years.  The 700 foot tower at 1 Dalton St. will house Boston's second Four Seasons Hotel and high end condominiums.  The condos will have 11 foot ceilings, fireplaces and top of the line kitchens.  The Four Seasons Hotel will have 211 rooms.  The $750 million project will be built on a triangular plot at the edge of the Christian Science Plaza.  Construction is expected to be completed by 2017.  The developer is Cambridge based Carpenter & Co with financing coming from investors from 26 countries.  Designers are Harry N Cobb of Pei Cobb Freed & Partners in collaboration with Gary Johnson of Cambridge Seven Associates Inc.
NCPWB has produced a second video to educate engineers about B31 Piping Codes and how the NCPWB helps contractors meet the codes' requirements.
The eight minute video is posted to YouTube https://www.youtube.com/watch?v=1TXPgaOioxs  and www.ncpwb.org
N.B. Kenney Acquires Boston Mechanical Services
Devens, MA – N.B. Kenney Company, Inc. began the celebration of its 45th year by announcing the acquisition of Boston Mechanical Services of Stoughton. Boston Mechanical Services offers a full range of maintenance and operation services for all types of mechanical systems.  "The joining of our two companies will further expand N.B. Kenney's portfolio of client services and bring added construction competencies to Boston Mechanical Services' current customers," said Steve Kenney, president of N.B. Kenney Co., Inc.  Aidan Maguire, former principal of Boston Mechanical Services, will lead the service entity as N.B. Kenney's vice president of service. Boston Mechanical Services will retain its name and become a division of N.B. Kenney Company, Inc.
MassDot to Build HQ at Parcel 3
Boston – The board of directors for the Boston Redevelopment Authority (BRA) and Economic Development Industrial Corporation (EDIC) revised the tentative designation for Parcel P-3 in Roxbury allowing Massachusetts Dept of Transportation (MassDOT) to develop nearly 1 million sqft of space for a new state transportation building, the National Center for Afro-American Artists museum, and retail, entertainment, and educational uses.  MassDOT is expected to construct approximately 800,000 sqft of office space and 21,000 sqft of space for the museum. The state agency will lease an additional 126,000 sqft of floor space to P-3 Partners for retail and other uses.
Luxury residential tower planned in Theater District
A development team wants to build a 355-foot, 31-unit boutique luxury condominium on Tremont Street in Boston's Midtown Cultural District, according to a letter of intent filed Monday with the Boston Redevelopment Authority.  171 Tremont LLC proposes replacing the existing 17,752-square-foot office building at 171-172 Tremont St. and building the condominiums in its place.  The property is located immediately across from Boston Common at the corner of Tremont Street and Avery Street. The office is adjacent to the Parkside Condominiums, AMC Loews Boston Common 19 movie theater and MBTA's Boylston Green Line stop.  The office property and its 4,438-square-foot lot is valued at a combined $3.4 million.  The principal owner and developer is Maurice Dabbah of Switzerland with joint venture partners Matthew Snyder and David Ridini, both principals of Center Court Boston LLC.  Elkus Manfredi Architects will serve as the architect.
Anchors away: 230-room hotel proposed at former chain-making factory in Charlestown Navy Yard 
A 230-room hotel has been proposed at 105 First Ave. in the Charlestown Navy Yard, a property that operated as a chain-making factory for the U.S. Navy for close to seven decades.
An affiliate of Danvers-based developer Kavanagh Advisory Group and Boston-based Pyramid Hotel Group has proposed redeveloping a former chain-making factory into a five-story, 230-room hotel at the Charlestown Navy Yard, according to documents filed with the Boston Redevelopment Authority. 
The 180,000-square-foot project would be built at 105 First Ave., which is located in the navy yard's historic monument area and known as the Chain Forge building, the BRA documents show. The 63,000-square-foot existing property was built between 1900 and 1904 and for close to seven decades provided anchor chain to the U.S. Navy, the developers wrote in a project proposal filed with the BRA. 
Chain Forge Hotel LLC is listed as the project's developer. That entity is managed by First Avenue Hotel LLC, an affiliate of Kavanagh Advisory Group of Danvers, and Pyramid Chain Forge Investment LLC, an entity controlled by Boston-based hotel and resort company Pyramid Hotel Group, according to a Massachusetts Secretary of State filing. 
The limited-service, extended-stay Chain Forge Hotel would include a lobby, conference rooms, pool, fitness center, restauarant and a historical exhibit showcasing the site's prior industrial uses. Kavanagh Advisory Group cites the historical exhibit as "a critical component of the hotel redevelopment" and say it will host 38 pieces of historical machinery owned by the U.S. National Park Service as "an interpretive exhibition." 
"The hotel will be an amenity unlike any other currently located within the Charlestown Navy Yard, providing the surrounding community with lodging and dining options that do not exist at this time," the developers wrote. 
Boston-based Bargmann, Hendrie & Archtype is listed as the project's architect, with Newton Center-based Building Conservation Associates Inc. serving as historic building consultant. 
If approved, construction is expected to take 24 months, starting next summer and wrapping up by October 2017. 
The developers say the project will create 300 jobs, "many of which are permanent."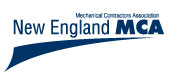 New England MCA
Serving the New England Mechanical Construction Industry by providing resources to help manage and grow business and by keeping members connected to changes in the industry.

New England MSCA
The New England Mechanical Service Contractors Association works to advance and promote our contractors performing service and refrigeration work in the HVACR industry.

New England NCPWB
New England National Certified Pipe Welding Bureau - New England's resource to educate and promote compliance with welding codes and certification in the Pipe Welding Industry.NCPWB promotional video on YouTube:  NCPWB YouTube Video