New England Mechanical Contractors Association
Recent News
May 2015               
 MCAA Great Futures- Hiring Interns Pays! There are lots of good reasons to hire interns - quick to learn, fresh perspective, high energy, eager to please, technology savvy - but the best one is that you may qualify for a $1,500 Student Internship Grant from the Mechanical Contracting Education & Research Foundation (MCERF) for every intern you hire.
Developers Propose $4 Billion Makeover of Boston Garage
Architectural firm, Hacin + Associatesis proposing a $4 billion redevelopment of Harbor Garage on Atlantic Ave, Winthrop Square Garage, Government Center Garage, the Garden Garage near North Station and the garage attached to Back Bay Station.  They want to replace these hulking concrete structures with skyscrapers featuring ground-floor stores, residences and office spaces.  Urban Renewal led to the construction of these garages to bring development during the 1950's and 60's when automobile ownership became the norm.  These garages allowed people to drive into the city to work.  Proposals have been approved for a six building development at Government Center Garage, but other plans for the Garden Garage and Back Bay Station Garage are still being discussed. 
Skanska expanding Seaport work with Marine Industrial Park office building
Skanska USA Commercial Development has received tentative approval from the Boston Redevelopment Authority to lease and develop a 215,000-square-foot office with first-floor retail, the BRA said after its May board meeting.  Parcel Q-1 is a triangular parcel located off Drydock Avenue adjacent to the Marine Industrial Park's entrance off Summer Street. The parcel, which is owned by the BRA, is one of just two parcels in the entire 191-acre park where development is not limited to marine or industrial uses. Skanska itself declined to comment on its plans.  Skanska's approval is "tentative" because the BRA needs a signed letter of intent for the development, and the project needs to go through the Article 80 development process, said Nick Martin, spokesman for the BRA.  Martin said Skanska's office project was an extension of the momentum generated by the Marine Industrial Park's neighbors, including Fort Point, Fan Pier and the Seaport overall.
Clark University to Break Ground on Alumni and Student Center
On Friday, Clark University will break ground on its new four-story 35,000 square foot Alumni and Student Engagement Center. The Center will be a signature building for the university and will serve as a place to welcome visiting alumni. Clark is aiming for the center to open in summer 2016.  According to the school, the building will give Clark's pioneering model for liberal undergraduate education a distinctive presence on campus, where students will collaborate with faculty, alumni and external partners to experience a rich mix of academic, world and workplace experiences.
Tufts Veterinary hospital to undergo $8.6M renovation
The Foster hospital at Tufts University's Cummings School of Veterinary Medicine in Grafton will undergo an $8.6 million renovation that will boost exam and treatment areas, the organization announced Wednesday.
The 30-year-old Henry and Lois Foster Hospital for Small Animals treated more than 29,000 patients last year and is expected to treat more than 32,000 this year. The renovation will increase the number of state-of-the-art examination rooms, create larger treatment rooms for specialty services, and increase clients' comfort. The renovation will also give Cummings students more opportunities for learning, research and collaboration.
Funds for the renovation were raised through a campaign launched in 2013, assisted by a 2 to 1 challenge gift from the Amelia Peabody Charitable Fund and $2.5 million from Travis and Anne Engen. The renovation is expected to be completed by summer 2016. Work on the lobby, which will impact how clients access the hospital during the renovation, will begin in June.
Martignetti To Build Regional HQ in Taunton
 The Taunton Development / Mass Development Corp. has sold 115 acres in Myles Standish Industrial Park to Martignetti Cos., New England's leading distributor of wines and spirits.  Martignetti plans to invest over $100 million to build a 680,000 sqft regional headquarters on the parcel.  Massachusetts provided $1.6 million from the MassWorks Infrastructure Program to develop roadways, utilities and storm water systems.  The US Economic Development Administration also provided $3.1 million in matching grant funds for the same purpose. 
Holy Cross breaks ground on $22M retreat site
The College of the Holy Cross will build a new $22 million facility on a 52-acre site in West Boylston that will boost its retreat programs.  The site, which overlooks the Wachusett Reservoir, was purchased by the school last year.  It is adjacent to a conservation area.   Officials from Holy Cross conducted a ceremonial groundbreaking at the site this week. It will be called the Joyce Contemplative Center, named after the late Thomas P. Joyce, a 1959 alumnus and member of the Holy Cross board of trustees.  He was also the father of six Holy Cross graduates. His family is a lead donor for the project.  The new facility will consist of a 33,800-square foot complex designed specifically for the college's retreat programs. The main building will include a chapel, meeting rooms and dining room. Adjoining that building will be a living quarters with bedrooms and baths for 60 individuals. 
Plans call for the Joyce Center to open at the start of the 2016-2017 academic year. The facility has been designed by Lamoureux Pagano & Associates of Worcester.
Five acres in South Boston industrial area slated for mixed-use development
A Boston-based developer has proposed creating six streets of housing, retail and park area on five acres of former light industrial space in South Boston's Andrew Square neighborhood.  The plan, unveiled Tuesday night at a community meeting at the Iron Workers Union building in South Boston, calls for eight buildings – the tallest rising 17 stories high – that would envelope an area at the intersection of Dorchester Street and Old Colony Avenue.  The area previously had housed Winthrop Printing, a transmission shop and other industrial uses.  There would be 700 units of housing, a mixture of apartments and condos, with an emphasis on affordability for the middle class, according to the developer, David Pogorelc of Core Investments. The plan also calls for 76,000 square feet of retail and parking for 580 cars, both on surface lots and in garages.  Included in the plan for retail uses are cafes and a smaller-scale supermarket.  The new area would include 1.4 acres of public open space, where Pogorelc envisions vibrant community uses, such as movies and block parties in warm weather months and a skating rink in the winter.
Labor group says agreement reached on gas pipeline
The MA Building Trades Council has reached an agreement with Kinder Morgan, the company that plans a $5 billion underground natural gas pipeline through southern New England.  The Building Trades announced Wednesday that a Memorandum of Understanding requires the firm to use union labor at all construction sites in Massachusetts. The council said the project will create thousands of construction jobs.  The proposed pipeline would follow a route from New York into western Massachusetts for 63 miles, then turn north and continue for 70 miles in southern New Hampshire before re-entering Massachusetts and ending in Dracut.  Supporters of the pipeline say it will expand natural gas supplies in the region. Critics say the project could cause environmental harm and slow investment in renewable energy sources.
NCPWB has produced a second video to educate engineers about B31 Piping Codes and how the NCPWB helps contractors meet the codes' requirements.
The eight minute video is posted to YouTube https://www.youtube.com/watch?v=1TXPgaOioxs  and www.ncpwb.org 
For over 100 years, New England Mechanical Contractors Association has been a construction industry trade association representing premier mechanical construction firms throughout Massachusetts, Rhode Island, Maine, New Hampshire and Vermont. From building new large scale construction to servicing and maintaining existing facilities, our member contractors employ the most highly skilled and trained workforce in New England delivering cost-effective, timely results and staying abreast of leading-edge technology and industry practices.
We offer membership within the Mechanical Contractors Association, Mechanical Service Contractors Association, and the National Certified Pipe Welding Bureau. We support our member contractors through our educational seminars, labor and government relations, industry news and marketing. Committed to the future of our industry, we sponsor MCA student chapters at Northeastern University and Wentworth Institute of Technology in Boston. Our affiliation with the
Mechanical Contractors Association of America
and our strong, cooperative relationship with the
United Association
enables us to offer our members numerous opportunities to build lasting, beneficial relationships with peers while acquiring the business knowledge and tools to keep their company successful.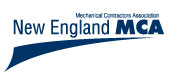 New England MCA
Serving the New England Mechanical Construction Industry by providing resources to help manage and grow business and by keeping members connected to changes in the industry. 

New England MSCA
The New England Mechanical Service Contractors Association works to advance and promote our contractors performing service and refrigeration work in the HVACR industry.

New England NCPWB
New England National Certified Pipe Welding Bureau - New England's resource to educate and promote compliance with welding codes and certification in the Pipe Welding Industry.NCPWB promotional video on YouTube:  NCPWB YouTube Video