New England Mechanical Contractors Association
Recent News
November 2015               
 MCAA Great Futures- Hiring Interns Pays! There are lots of good reasons to hire interns - quick to learn, fresh perspective, high energy, eager to please, technology savvy - but the best one is that you may qualify for a $1,500 Student Internship Grant from the Mechanical Contracting Education & Research Foundation (MCERF) for every intern you hire.
Hopkinton: Construction of $28.5M lab underway
HOPKINTON — The state Department of Transportation's new $28.5 million central research and materials lab off the Massachusetts Turnpike is taking shape.  Construction started this summer, according to MassDOT. On Tuesday, contractors held a traditional topping off ceremony, placing an American flag and small tree on the frame of the building.  The frame of the new 49,000-square-foot building can be seen off the Pike's Westborough service plaza, which is on the westbound side of the highway. Construction is expected to finish up in August 2016, according to Amanda Skahan, a department spokeswoman.  The building will include a one-story lab with a two-story section with offices.  "The building is designed for a staff of 70 and will be used as office space and lab space," she wrote in an email to the Daily News. "The laboratories will test materials used in the construction of roadways and bridges: pavement, concrete, paints, guardrails, steel rebars etc."
Imperial Distributors building new Worcester facility
Imperial Distributors of Worcester will build a new distribution facility off of Route 146 at the former site of U.S. Steel, consolidating its operations in a built-to-suit building.  The 325,000-square-foot facility will house distribution space, administrative offices and the company's innovation center. Imperial distributes non-food products to more than 3,500 locations, shipping more than 1.3 million units each week throughout 27 states.  The company was founded in Worcester in 1939 and has operations in the city as well as the Auburn Industrial Park, said Imperial CEO Michael Sleeper. The new facility will consolidate those operations and house approximately 340 employees. The company has 750 employees total.
"The new facility will bring our entire team together in one place, and its ideal location will allow us to retain our talented workforce," said Sleeper, who added many of the company's employees are local.  The site off of the highway is excellent for the company because of the proximity to the Mass Pike, he said.  The facility, which will be built on land leased from developer GFI Partners, is expected to open in January of 2017.
Construction to begin at Holy Cross
Holy Cross will kick off work to improve the Hart Center after fundraising two-thirds of the estimated construction cost, the school said Wednesday.  They have signed a contract with a construction management firm to begin work on the hilltop athletic complex as early as next month.  The project includes both the renovation and expansion of the Hart Center, and construction of a new field house. It is one of the six main initiatives of the college's ongoing $400 million fundraising campaign "Become More: Campaign for the Future of Holy Cross."  Initial work will include some blasting and drilling at the Worcester campus. Construction at Hart is expected to be completed in mid-2018, with work on the field house slated to begin afterword, the college said.
Marathon Sports Group unveils plan for new Worcester hockey rinks
WORCESTER — Three years after his plan to have a hockey rink built in the parking lot near the Worcester Public Library failed, Craig L.  Blais, president and chief executive of the Worcester Business Development Corporation, believes he's found a more suitable location in the Canal District.  He said the WBDC has been negotiating for two years with GKN Sinter Metals to acquire the former PresMet Corp. site at Harding and Winter streets, and he expects to complete the purchase with brownfield grants between Thanksgiving and Christmas.  They would demolish the former powder metal parts manufacturing plant, which has been closed since 2007, clean up the 3.5-acre site by June 1, 2016, and lease it to Marathon Sports Group, which would finance, build, own and manage the facility that will house two rinks, a pro shop, eight locker rooms, a restaurant, offices and possibly a physical therapy room. Marathon Sports Group president Harry Angevine said the plan is to complete construction by August 2017.  Mr. Blais estimated purchasing the property, demolishing the building and cleaning the site would cost $3 million, and Mr. Angevine said construction would cost another $12-$15 million.  The only ice rink currently open to the public in Worcester is the state-owned Buffone Arena on Lake Avenue.
NCPWB has produced a second video to educate engineers about B31 Piping Codes and how the NCPWB helps contractors meet the codes' requirements.
The eight minute video is posted to YouTube https://www.youtube.com/watch?v=1TXPgaOioxs  and www.ncpwb.org 
For over 100 years, New England Mechanical Contractors Association has been a construction industry trade association representing premier mechanical construction firms throughout Massachusetts, Rhode Island, Maine, New Hampshire and Vermont. From building new large scale construction to servicing and maintaining existing facilities, our member contractors employ the most highly skilled and trained workforce in New England delivering cost-effective, timely results and staying abreast of leading-edge technology and industry practices.
We offer membership within the Mechanical Contractors Association, Mechanical Service Contractors Association, and the National Certified Pipe Welding Bureau. We support our member contractors through our educational seminars, labor and government relations, industry news and marketing. Committed to the future of our industry, we sponsor MCA student chapters at Northeastern University and Wentworth Institute of Technology in Boston. Our affiliation with the
Mechanical Contractors Association of America
and our strong, cooperative relationship with the
United Association
enables us to offer our members numerous opportunities to build lasting, beneficial relationships with peers while acquiring the business knowledge and tools to keep their company successful.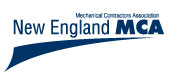 New England MCA
Serving the New England Mechanical Construction Industry by providing resources to help manage and grow business and by keeping members connected to changes in the industry. 

New England MSCA
The New England Mechanical Service Contractors Association works to advance and promote our contractors performing service and refrigeration work in the HVACR industry.

New England NCPWB
New England National Certified Pipe Welding Bureau - New England's resource to educate and promote compliance with welding codes and certification in the Pipe Welding Industry.NCPWB promotional video on YouTube:  NCPWB YouTube Video