New England Mechanical Contractors Association
For over 100 years, New England Mechanical Contractors Association has been a construction industry trade association representing premier mechanical construction firms throughout Massachusetts, Rhode Island, Maine, New Hampshire and Vermont. From building new large scale construction to servicing and maintaining existing facilities, our member contractors employ the most highly skilled and trained workforce in New England delivering cost-effective, timely results and staying abreast of leading-edge technology and industry practices.
We offer membership within the Mechanical Contractors Association, Mechanical Service Contractors Association, and the National Certified Pipe Welding Bureau. We support our member contractors through our educational seminars, labor and government relations, industry news and marketing. Committed to the future of our industry, we sponsor MCA student chapters at Northeastern University and Wentworth Institute of Technology in Boston. Our affiliation with the
Mechanical Contractors Association of America
and our strong, cooperative relationship with the
United Association
enables us to offer our members numerous opportunities to build lasting, beneficial relationships with peers while acquiring the business knowledge and tools to keep their company successful.
"Far and away the best prize that life offers is the chance to work hard at work worth doing."
--Theodore Roosevelt
Recent News
 September 2014               
Bose buys $15M space near Framingham HQ
Bose Corp. of Framingham has purchased property zoned for nearly 100,000 square feet of office, laboratory and research space adjacent to its headquarters.
"Bose purchased the properties to have the flexibility to expand near our corporate headquarters in the Framingham Technology Park as space needs increase," Bose spokeswoman Joanne Berthiaume said in an email response to an inquiry about the purchase.  The purchase of the property, listed as 125, 135 and 137 Pennsylvania Ave. by Bose, was recorded Aug. 16, according to Massachusetts Land Record documents. The seller, The Congress Group, created the office space from three separate properties it bought in 2008.  According to a document from the group, the assembled site covers 400,000 square feet with two six-story buildings. The site includes a parking garage with 1,245 spaces.  Documents from a decision by the Framingham Planning Board show Bose was granted approval to rehabilitate the existing 84,200 square feet of office and warehouse space into 98,200 square feet of office, research and development and laboratory space. Costs for the work were estimated at $7.4 million, according to Planning Board documents.
Eastern Nazarene College Upgrades Campus With MassDevelopment Bond
QUINCY  - MassDevelopment has issued a $23 million tax-exempt bond on behalf of Eastern Nazarene College (ENC), a Christian liberal arts college in Quincy. The college will use bond proceeds to finance a number of campus improvements and renovations – including upgrades to its academic and athletic facilities – as well as refinance debt. East Boston Savings Bank purchased the bond.
"Massachusetts has a national reputation for educational prowess thanks to institutions like Eastern Nazarene," said MassDevelopment President and CEO Marty Jones. "Academics and athletics are integral parts of the college experience, and these projects will enhance the value of learning and scope of education Eastern Nazarene provides."
ENC President Dr. Corlis McGee said the projects to be funded by the bond build upon recent campus upgrades, including major renovations to several dormitories as well as the student union and campus dining facilities.
"These campus improvements have enhanced the student experience and created a stronger living/learning environment," McGee said. "We now plan to expand upon these efforts, providing our students with academic and athletic facilities that match the excellence of our programs."
Eastern Nazarene College currently enrolls more than 1,400 students across a traditional residential undergraduate program, adult studies and graduate programs. The college offers a breadth of academic programs that prepare students to lead and serve in a diverse world by integrating the "best in education and the best in Christian faith." ENC also encourages its students to travel and engage in service learning projects as part of their education. With faculty members active in publishing and research, ENC is known for its success in getting students into top law, medical and graduate schools. 
James Hook & Co. lines up development
A developer representing James Hook & Co. is expected to present plans this fall to convert the Boston seafood retailer/wholesaler's site — a key underdeveloped waterfront parcel — into new residences or a hotel, according to sources familiar with the proposed project.  SKW Partners is expected to unveil the plans, including options for Boston Harborwalk connections, to the Downtown Waterfront Municipal Harbor Planning Advisory Committee at the end of September or in mid-October.  "The city has strongly encouraged them to stay within the (Rose Kennedy Greeenway) guidelines for height (of 175 feet)," said one source. "They're a bit over 200 feet."  A third generation of the Hook family manages the business, which got its start in 1925. Its current Atlantic Avenue operations — a retail seafood store with a limited lunch menu that includes lobster rolls — is housed in a small one-story structure after a 2008 fire virtually gutted the approximately 20,000-square-foot site between the old Northern Avenue and Evelyn Moakley bridges. The Hooks, who plan to maintain an expanded presence in the new development, did not return calls.  The Boston Redevelopment Authority acknowledged preliminary conversations about the site with James Hook representatives. "Any redevelopment proposal would be guided by the municipal harbor planning process, and Hook's representatives have expressed an interest in presenting to the (Downtown Waterfront) Municipal Harbor Plan(ning) Advisory Committee in the fall," spokesman Nick Martin said. 
New Marlborough hotel targets new businesses
A Hilton Garden Inn will be added to the Marlborough Hills development in Marlborough with developer CSM Lodging aiming to serve the needs of GE Healthcare Life Sciences and other incoming businesses.
"As major corporations continue to move into Marlborough, we recognized a need for a new, updated hotel to accommodate the area's growing community," said Bob Micklash, president of CSM. "We are excited by the activity within the immediately adjacent office park and could not be more pleased to make this venture a reality."

The hotel will be the newest in the area, featuring 160 rooms, a restaurant, bar, patio and business center. It will be housed in the same development where GE plans to base its healthcare and life sciences division next spring. Its 160,000 square-foot facility, located in the former Hewlett-Packard complex on Forest Street, will house more than 500 employees.

Marlborough Hills includes nearly 1 million square feet of commercial office space, 350 residential units and about 35,000 square feet of planned retail and dining space. CSM is target a first-quarter 2016 opening for the hotel.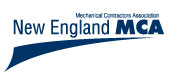 New England MCA
Serving the New England Mechanical Construction Industry by providing resources to help manage and grow business and by keeping members connected to changes in the industry.

New England MSCA
The New England Mechanical Service Contractors Association works to advance and promote our contractors performing service and refrigeration work in the HVACR industry.

New England NCPWB
New England National Certified Pipe Welding Bureau - New England's resource to educate and promote compliance with welding codes and certification in the Pipe Welding Industry.NCPWB promotional video on YouTube:  NCPWB YouTube Video