New England Mechanical Contractors Association
Recent News
October 2015               
 MCAA Great Futures- Hiring Interns Pays! There are lots of good reasons to hire interns - quick to learn, fresh perspective, high energy, eager to please, technology savvy - but the best one is that you may qualify for a $1,500 Student Internship Grant from the Mechanical Contracting Education & Research Foundation (MCERF) for every intern you hire.
Downtown Worcester to add 168 room, high-end hotel
A European-style, high-end hotel will be the newest member of the CitySquare ecosystem in downtown Worcester beginning in 2017 when it opens with a restaurant, 168 rooms and meeting space.
The 120,000-square-foot AC Hotel by Marriott will round out the hotel market in Worcester as the city's only full-service downtown hotel. It will be clearly aimed at business clients, with meeting space integrated into the facility. The announcement detailing the hotel was made at Worcester City Hall on October 6th.  "Our goal is to make sure we can accommodate all of the needs here in town … so that (guests) don't have to go anywhere else," said Leo H. Xarras, chairman of Colwen Hotels (a group under XSS Hotels of Hooksett, N. H.  Worcester has been sitting at under 800 rooms and lacked a downtown hotel that combined a restaurant, meeting space and enough hotel rooms to handle major blocks of company clients, Sandy Dunn, general manager of the DCU Center, has said in the past.  Four of these hotels will launch in Boston as well, although Worcester will be the most westerly location in Massachusetts for this hotel brand.
The Worcester location, with its unique amenities, will be able to draw customers from a 20- to 25-mile reach, Xarras said. The hotel will feature expanded common-space accommodations, Worcester-County sourced art, a fitness center, meeting and function space, and a salt-water pool.  The Worcester hotel will cost $33.1 million to develop and will be located at the corner of Front and Trumble streets. It will support 60 full-time jobs upon completion.
Lasell College Plans $21 Million Complex
Lasell College is planning a new academic complex on their Newton campus that will add science lab and classroom space.  The new, 23,600 sqft building will fill an open space that currently exists between an existing science classroom building and a general academic building known as Wolf Hall.  Wolf Hall will be renovated and the other building will be torn down.  The new complex will house biology, chemistry and physics labs as well as an athletic training lab and a math lab.  22 classrooms, 25 faculty offices and a bookstore/café will also be housed.  The college plans a $10 million bond offering for the project with other funding from surplus and private fundraising.  Cannon Design will design the project.
$120.8 Million Taconic HS Construction Project 
Pittsfield – Gilbane Building Co. has been chosen as construction manager for the $120.8 million Taconic High School construction project by the city's School Needs Building Commission.  They were chosen from among five other firms who interviewed.  Skanska USA is the project consultant for the city.  Gilbane stated that they would provide educational opportunities for vocational students attending Taconic.  Architecture / Design firm is Drummey Rosane Anderson of Waltham MA.  Groundbreaking will be early 2016 with completion slated for 2018.  The MA School Building Authority has approved $74.2 million in state funding and the Pittsfield City Council has approved $45 million in bonding.
Kinder Morgan board approves new gas pipeline for Mass.
The board of Kinder Morgan, the parent company of the Tennessee Gas Pipeline Company (TGP), has voted to move forward with a 30-inch-wide gas pipeline expansion project from New York to Massachusetts.  The vote authorizes the TGP's Northeast Energy Direct (NED) project's "market path" segment of 188 miles of new and co-located gas pipeline from Wright, N.Y., to Dracut, Masss. Previous to this vote the project was technically a proposal by TGP.  According to Kinder Morgan, the project will serve the needs of the region and help alleviate demand for natural gas – especially in the winter months when it is used for both heating and energy production.  At 30 inches in diameter, the pipeline will serve energy commitments from natural gas distribution companies as well as expected commitments from gas-fired electricity generation companies. The decision to go with a 30-inch pipeline, rather than 36 inches or a combination of the two as previously proposed, was a result of ongoing negotiations with customers through a public dialogue as well as an evaluation of needs.  The pending project, which is subject to lengthy review, was previously proposed to have TGP building a 36-inch pipeline through about 40 communities across the northern part of Massachusetts. This would have linked a distribution center in Dracut with shale fields in Pennsylvania, where natural gas is harvested through fracking.  The new path for the pipeline, proposed in December 2014, shifts much of the pipeline into New Hampshire. This path bypasses 13 communities in Massachusetts that would previously have had the pipeline pass through them. These include Athol, Ashburnham and Winchendon. However, newly impacted Massachusetts communities include Cheshire, Hancock, Lanesborough and Shelbourne, according to TGP.  Ongoing hearings are underway with the Federal Regulatory Commission regarding the project. TGP intends to file the certificate application for the project in October 2015, Watson said. Subject to the timely receipt of necessary regulatory permits, NED is anticipated to commence service in November 2018.
BRA Approves Over $75 million In New Projects At June Meeting
Recent BRA approvals have made way for housing in the South End and Dorchester and a public charter school in Hyde Park.  These approvals represent an investment of $75.3 million in Boston's economy.  Brookview House III in Dorchester will result in 12 affordable units for very low-income residents.  The South End project will transform a former church into 33 units of housing.  The 3 developments are expected to create nearly 250 construction jobs.
Devens Plan  Scuttled  by  Town's  Vote
Any future biotechnology development at Devens has hit a roadblock after the town of Harvard rejected rezoning part of the former Army base, according to a top state economic development official. At simultaneous meetings Monday, two of the towns in which Devens is located — Shirley and Ayer — approved the rezoning of the southern end of the Grant Road district for commercial use, but Harvard Town Meeting members defeated it.  The zoning change would have provided a large site with infrastructure in place to accommodate a large biotechnology user in Devens.  Harvard Selectwoman Lucy Wallace said she voted against the proposal because it would have "eaten into" 17 of 100 acres of a recently approved residential development that are supposed to be preserved for open space and it would have combined large commercial use with residential use.  MassDevelopment still is interested in working with the towns.
Apartments comprise almost 80% of Boston's housing projects so far this year
13,000 housing units since January 2011, with another 8,000 units approved, puts the city on track to meet Mayor Walsh's goal of creating 53,000 housing units by 2030, according to the city's first-quarter housing plan progress report released Wednesday.  In the first quarter, Boston permitted 1,187 total units and approved 825 total units. Apartment units made up the significant majority of housing permitted or approved in the first quarter, at 77.5 percent of the 1,187 units permitted and 79 percent of the 825 units approved, the report showed.  Brian Golden, director of the BRA, told the Boston Business Journal that many of the housing projects approved by the authority's board have options to transition into condominiums. Developers shied away from condominium development in the post-recession years, but that tide could turn as buyer demand remains strong in Boston and beyond.  One major goal of the Boston 2030 housing plan is identifying transit-oriented sites for work-force housing. Walsh has previously identified two "growth zones" — Dorchester Avenue between the Red Line's Broadway and Andrew stations in South Boston, and the Orange Line between Jackson Square and Forest Hills on the border of Jamaica Plain and Egleston Square. Golden said the BRA has identified 15 other nodes that are similar to those Red and Orange Line growth zones and are "heavily dependent" on MBTA services.
Developers Propose $4 Billion Makeover of Boston Garage
Architectural firm, Hacin + Associatesis proposing a $4 billion redevelopment of Harbor Garage on Atlantic Ave, Winthrop Square Garage, Government Center Garage, the Garden Garage near North Station and the garage attached to Back Bay Station.  They want to replace these hulking concrete structures with skyscrapers featuring ground-floor stores, residences and office spaces.  Urban Renewal led to the construction of these garages to bring development during the 1950's and 60's when automobile ownership became the norm.  These garages allowed people to drive into the city to work.  Proposals have been approved for a six building development at Government Center Garage, but other plans for the Garden Garage and Back Bay Station Garage are still being discussed. 
NCPWB has produced a second video to educate engineers about B31 Piping Codes and how the NCPWB helps contractors meet the codes' requirements.
The eight minute video is posted to YouTube https://www.youtube.com/watch?v=1TXPgaOioxs  and www.ncpwb.org 
For over 100 years, New England Mechanical Contractors Association has been a construction industry trade association representing premier mechanical construction firms throughout Massachusetts, Rhode Island, Maine, New Hampshire and Vermont. From building new large scale construction to servicing and maintaining existing facilities, our member contractors employ the most highly skilled and trained workforce in New England delivering cost-effective, timely results and staying abreast of leading-edge technology and industry practices.
We offer membership within the Mechanical Contractors Association, Mechanical Service Contractors Association, and the National Certified Pipe Welding Bureau. We support our member contractors through our educational seminars, labor and government relations, industry news and marketing. Committed to the future of our industry, we sponsor MCA student chapters at Northeastern University and Wentworth Institute of Technology in Boston. Our affiliation with the
Mechanical Contractors Association of America
and our strong, cooperative relationship with the
United Association
enables us to offer our members numerous opportunities to build lasting, beneficial relationships with peers while acquiring the business knowledge and tools to keep their company successful.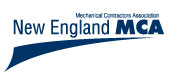 New England MCA
Serving the New England Mechanical Construction Industry by providing resources to help manage and grow business and by keeping members connected to changes in the industry. 

New England MSCA
The New England Mechanical Service Contractors Association works to advance and promote our contractors performing service and refrigeration work in the HVACR industry.

New England NCPWB
New England National Certified Pipe Welding Bureau - New England's resource to educate and promote compliance with welding codes and certification in the Pipe Welding Industry.NCPWB promotional video on YouTube:  NCPWB YouTube Video