New England Mechanical Contractors Association
For over 100 years, New England Mechanical Contractors Association has been a construction industry trade association representing premier mechanical construction firms throughout Massachusetts, Rhode Island, Maine, New Hampshire and Vermont. From building new large scale construction to servicing and maintaining existing facilities, our member contractors employ the most highly skilled and trained workforce in New England delivering cost-effective, timely results and staying abreast of leading-edge technology and industry practices.
We offer membership within the Mechanical Contractors Association, Mechanical Service Contractors Association, and the National Certified Pipe Welding Bureau. We support our member contractors through our educational seminars, labor and government relations, industry news and marketing. Committed to the future of our industry, we sponsor MCA student chapters at Northeastern University and Wentworth Institute of Technology in Boston. Our affiliation with the
Mechanical Contractors Association of America
and our strong, cooperative relationship with the
United Association
enables us to offer our members numerous opportunities to build lasting, beneficial relationships with peers while acquiring the business knowledge and tools to keep their company successful.
"Far and away the best prize that life offers is the chance to work hard at work worth doing."
--Theodore Roosevelt
Recent News
April 2014
National Certified Pipe Welding Bureau promotional video on YouTube:  http://youtu.be/2HUw96ZmsTU
QCC breaks ground on new $23M center
Quinsigamond Community College broke ground today on a $23 million, 30,000-square-foot engineering and technology building.  The funding for the new facility dubbed the QuEST (Quinsigamond Engineering, Science and Technology) Center was provided by a $23 million state bond, as well as a $500,000 grant from the Massachusetts Life Sciences Center.
Study may affect how buildings are ventilated
A new study from MIT that could change the way building ventilation systems are designed found that the germs stay airborne in gas clouds, spreading the droplets throughout an entire room, five to 200 times farther than if they had been traveling as individual particles.  John Bush, an MIT professor, said the research could trigger a shift in how ventilation systems are built, especially in high risk buildings such as hospitals and schools.  "If you have a room and you're trying to decide how to ventilate the room, you have to keep in mind these pathogens stay in the air much longer," he said.  Laura Wernick, a senior principal at HMFH Architects in Cambridge who designs schools and classrooms, said accounting for the spread of germs is key in designing ventilation systems.  She said her firm tries to get air — and potential germs — out of classrooms as quickly as possible.  Bush said hospitals, where a cough can spread serious diseases, should take steps to improve ventilation.
Lawrence General Hospital to Renovate With $43 Million MassDevelopment Bond
MassDevelopment has issued $43,490,000 in tax-exempt bonds on behalf of Lawrence General Hospital, a 189-bed community hospital in Lawrence that serves the Merrimack Valley. The hospital will use bond proceeds for a multiyear plan to renovate and modernize the hospital's campus, including, inpatient unit renovations and infrastructure upgrades. Bond proceeds will also finance other capital purchases of medical and monitoring equipment, and information technology to support the modernization effort.
Conference Committee OKs Unemployment Insurance Rate Freeze
A Beacon Hill conference committee last night recommended that the Massachusetts Legislature freeze Unemployment Insurance rates for 2014, a move that would spare employers from an unnecessary 33 percent tax increase that took effect January 1.  The measure now moves to the full Senate and House of Representatives, both of which have already approved a freeze as part of separate pieces of legislation.  First-quarter UI payments are generally due by April 30, but the Massachusetts Department of Unemployment Assistance Advisory Committee recently postponed the deadline until May 30.
Marriott Hotel to be built in Medford
Medford's Station Landing will be home to the first AC Hotel by Marriott to be built in Greater Boston.  National Development expects to commence construction on the 83,000-square-foot hotel by year's end on the 152 room boutique hotel on a two-acre parking lot. The Newton-based developer declined to disclose the project cost. The hotel will be the final building at Station Landing, which offers more than 1 million square feet of residential, office and retail at Wellington Circle, near the Orange Line MBTA Station
JLL unit will manage $15m expansion of the YMCA in West Roxbury
A unit of JLL said it is providing project management services for the YMCA of Greater Boston's expansion of its West Roxbury facility.  The $15 million project will update the 61-year-old facility with the demolition of 16,000 square feet from an existing building, and the construction of a 24,000-square-foot addition, said JLL, a commercial real estate services firm that recently shortened its name from Jones Lang LaSalle. JLL has a big presence in the Greater Boston market.  The project includes a renovated gymnasium, a new state-of-the art fitness center, a new lobby, two wellness studios and an extended parking area. The outdated indoor swimming pool, meanwhile, is being replaced with a new aquatic center that will include lap and family pools, JLL said.  Construction is scheduled to begin shortly and be completed in the summer of 2015, JLL said.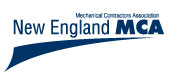 New England MCA
Serving the New England Mechanical Construction Industry by providing resources to help manage and grow business and by keeping members connected to changes in the industry.

New England MSCA
The New England Mechanical Service Contractors Association works to advance and promote our contractors performing service and refrigeration work in the HVACR industry.

New England NCPWB
New England National Certified Pipe Welding Bureau - New England's resource to educate and promote compliance with welding codes and certification in the Pipe Welding Industry.