New England Mechanical Contractors Association
For over 100 years, New England Mechanical Contractors Association has been a construction industry trade association representing premier mechanical construction firms throughout Massachusetts, Rhode Island, Maine, New Hampshire and Vermont. From building new large scale construction to servicing and maintaining existing facilities, our member contractors employ the most highly skilled and trained workforce in New England delivering cost-effective, timely results and staying abreast of leading-edge technology and industry practices.
We offer membership within the Mechanical Contractors Association, Mechanical Service Contractors Association, and the National Certified Pipe Welding Bureau. We support our member contractors through our educational seminars, labor and government relations, industry news and marketing. Committed to the future of our industry, we sponsor MCA student chapters at Northeastern University and Wentworth Institute of Technology in Boston. Our affiliation with the
Mechanical Contractors Association of America
and our strong, cooperative relationship with the
United Association
enables us to offer our members numerous opportunities to build lasting, beneficial relationships with peers while acquiring the business knowledge and tools to keep their company successful.
"Far and away the best prize that life offers is the chance to work hard at work worth doing."
--Theodore Roosevelt
Recent News
March 2014
National Certified Pipe Welding Bureau promotional video on YouTube:  http://youtu.be/2HUw96ZmsTU
Boston Medical Center consolidating campuses
Boston Medical Center will break ground on a $270 million construction and renovation project that will consolidate the two South End campuses.  The project, expected to be completed in 2017, is a belated culmination of the 1996 merger of Boston City Hospital and University Hospital, which created Boston Medical. The hospitals have integrated departments over the past 18 years and closed one of the two emergency rooms in 2010, but continue to offer medical care at both campuses.  The project is approved by Boston Medical's directors and the Boston Redevelopment Authority but awaits a "determination of need" certificate from the state Department of Public Health.  The plan calls for eight additional operating rooms and about 70 single rooms on the former Boston City Hospital site, expanding outpatient facilities, gastroenterology department and Boston Medical's congested emergency department.  This also means closing the Newton Pavilion on the former University Hospital campus. Those buildings will be sold with proceeds from the sale, along with money raised through philanthropy and bond financing, will bankroll construction and renovations at the Menino, Yawkey, and Moakley buildings on the remaining campus, plus a transport bridge that will ferry patients from a helipad over Albany Street to the medical center.  Overall, the hospital's footprint will shrink by about 329,000 square feet to just under 2.1 million square feet.
PLYMOUTH PUBLIC SCHOOLS: Town opts for new construction to fix Plymouth South High
Architects determined the least expensive option is also the best option for fixing problems at Plymouth South High School.  Members of three local boards officially made it the town's preferred option this week, voting unanimously to pursue plans for a new high school for students in the southern half of town.  Meeting in joint session Tuesday night, the School Committee, the Building Committee and the Board of Selectmen individually endorsed Ai3's design for the construction of a 247,000-square-foot school on ball fields behind the existing school.  The $107 million price tag for the new school is $7 million less than the estimated cost of upgrading the existing school, which is only 25 years old but has serious structural as well as programming deficiencies.  The town voted to fund construction for the new project in 2006 but officials have insisted on only pursuing improvements to the school if the state was willing to pay for a share.  If the Massachusetts School Building Authority approves the design, the state would reimburse the town for approximately 50 percent of costs.  The town submitted the design for the new construction to the state this week.  The state will meet in late March to consider giving the proposal preliminary approval.  If that approved is granted, the proposal would come before the authority for a final approval in June.  Maestas said final design and construction would then consume another three years. If all goes well, the new school could be ready to open for classes in the fall of 2017.  Ai3, the architect for the project, has designed a 247,000-square-foot school that would integrate Plymouth South's academic and technical studies programs.
Nichols College to build, refinance, with $20M in bonds
Nichols College in Dudley will build a 27,500-square-foot academic building and finance other improvements, thanks to $20 million in tax-exempt bonds issued by MassDevelopment, the state's finance and development agency.The building will house the Institute for Women's Leadership, academic support services, classrooms and offices, according to a statement from MassDevelopment. Bond proceeds will also help renovate and expand the college's Chalmers Field House and improve campus lighting and landscaping, and other projects. In addition, Nichols will refinance previous debt with bond proceeds, which financed the construction of dormitories, academic buildings and a gymnasium. Springfield-based United Bank purchased the bonds.
Framingham State receives $3M for lab renovation
The Massachusetts Life Sciences Center (MLSC) announced two grants to support life sciences capital projects at area schools, with the larger sum, $3 million, awarded to Framingham State University (FSU) for major lab renovation projects. The FSU project will support life sciences workforce development and training, as well as research and development at the school, according to MLSC. FSU will provide additional biology and chemistry and research laboratory space through the renovation of the lab, called Hemenway Hall. The project will have a "transformative impact" on FSU's science, technology, engineering and mathematics (STEM) programs, according to interim FSU President Robert Martin. With construction already underway, FSU had considered scaling back the project due to rising construction costs, but the $3 million grant, along with a an additional $9.3 million in state funding issued in November, helped the school avoid that..
In addition the FSU project, MLSC awarded a $50,000 planning grant to develop a strategic plan for the Applied Life Sciences and Technology Center (ALSCT) at Massachusetts Bay Community College's downtown Framingham campus. The center is currently in the design phase, and is being funded by a $22.1 million state capital appropriation.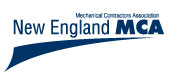 New England MCA
Serving the New England Mechanical Construction Industry by providing resources to help manage and grow business and by keeping members connected to changes in the industry.

New England MSCA
The New England Mechanical Service Contractors Association works to advance and promote our contractors performing service and refrigeration work in the HVACR industry.

New England NCPWB
New England National Certified Pipe Welding Bureau - New England's resource to educate and promote compliance with welding codes and certification in the Pipe Welding Industry.