New England Mechanical Contractors Association
Recent News
March 2015               
 MCAA Great Futures- Hiring Interns Pays! There are lots of good reasons to hire interns - quick to learn, fresh perspective, high energy, eager to please, technology savvy - but the best one is that you may qualify for a $1,500 Student Internship Grant from the Mechanical Contracting Education & Research Foundation (MCERF) for every intern you hire.
BU School of Management receives $50M gift and begins plans for expansion
Boston University School of Management has received a $50 million gift from Allen Questrom and his wife Kelli, marking the largest gift in the university's history and allowing the school to plan for expansion.  With the gift, BU will rename its management school to the Questrom School of Business. The donation puts BU at $823 million and close to its goal of raising $1 billion in a fundraising campaign that is slated for completion in 2017.  Plans for the Questrom's gift include beginning the plans for an expansion of the business school.   The expansion of BU's business school would add about 60,000 square feet of mainly classroom space to BU's existing school of management building at 595 Commonwealth Avenue. The project would connect that existing Commonwealth Avenue building to property that BU owns on Allstate Road. Currently, brownstone buildings and some open space occupy the site.  There are no details yet about the timing of the expansion project or  the size of the new structure would be. Expansion is necessary to house the growing number of business students enrolled at BU. In the past few years, the number of undergraduate management students has grown from 2,000 to its current enrollment of 2,500.   The new structure would have an entrance on Bay State Road.
Mass. gives Amazon $3m in tax breaks
The MA Economic Assistance Coordinating Council voted Tuesday to give Amazon.com Inc. $3.25 million in state tax breaks, cementing the company's plans to build a 1-million-square-foot fulfillment center in Fall River and Freetown.  "This is a big deal," said Jay Ash, the state's Secretary of Housing and Economic Development, who negotiated the deal with Amazon. "To have an internationally recognized company making a substantial commitment to a gateway city like Fall River, that's a good way to kick-start economic development."  In return for the tax breaks, Amazon promises 500 permanent jobs in addition to as many as 2,000 seasonal and part-time jobs. Of the $3.25 million, $1 million is a job creation credit, which the company is allowed to sell for cash. The remaining $2.25 million is a so-called "enhanced expansion project" credit. The economic council also approved $11.6 million worth of local tax breaks Amazon previously negotiated with Fall River and Freetown.  The fulfillment center is expected to open in summer or fall 2016.
UMass pursuing Shrewsbury surgery center
UMass Memorial Health Care and the Shields Health Care Group are planning to build a 40,000-square-foot surgery center on Main Street in Shrewsbury.  The facility at 151 Main St. would be owned and operated by the two groups under the name Healthcare Enterprises LLC. The cost to build the center would not exceed $30 million, according to UMass officials. The center would provide mainly orthopedic services.  Shrewsbury selectmen voted "wholeheartedly" on Tuesday to send a letter of support for the center to the Massachusetts Department of Public Health (DPH).  A public hearing was held by DPH on March 16 with a final decision expected on May 13. Once that certificate is received from the state, the local approval process would move forward. Because of local officials' familiarity with the site and UMass' experience with similar projects, all parties expect the project to move quickly towards a 2016 opening of the building.
Mixed-Use with Movie Theater and Apartments Proposed for South Bay
A developer has filed a letter of intent with BRA for a mixed-use project on 10 acres adjacent to South Bay Center in Dorchester.  The letter, from All State Roads LLC outlines a plan to construct a transit-oriented, mixed-use commercial / residential development to include a 65,000 sqft cinema, 150-200 room hotel, 115,000 sqft of retail space, 500 residential units and two parking garages.  New internal roadways, sidewalks and open space will be created as well.  The tract of land is bounded by South Bay, Enterprise St to the southwest, Boston St to the southeast and West Howell St to the northeast.  The land is currently occupied by a concrete plant, vacant commercial and industrial space, office and retail buildings and parking lots.
HFF secures $680M in financing for Four Seasons tower
HFF has secured $680 million in construction financing and joint venture equity for the 61-story Four Seasons hotel and private residences planned in Boston's Back Bay neighborhood.  HFF worked with developer Carpenter & Co. to secure a $500 million construction loan through The Children's Investment Fund Management LLP, a London-based hedge fund management firm. Citi Private Bank raised $180 million in joint venture equity.  The 61-story project, which officially broke ground last month, is slated to be the largest tower built in four decades when complete in 2018. It will be anchored by a 211-room Four Seasons on the lower 23 floors, with 180 private residences on floors 25-61.  Suffolk Construction Co. is the project's general contractor, and the tower was designed by architects Pei Cobb Freed & Partners in collaboration with Cambridge Seven Associates.
N.B. Kenney's Mechanical Expertise Shines in Award-Winning E Ink Renovation
Heating hot water and chilled water piping at E-Ink.
Billerica, MA – N.B. Kenney Company, Inc. was an integral part of the project team that undertook the renovation of E Ink's technical and administrative center in Billerica that earned the Associated Builders and Contractors' Excellence in Construction Eagle Award. The project involved consolidation of two existing buildings into one 140,000sf facility to meet the specific research and development needs of this electronic tablet producer.
N.B. Kenney was responsible for the extensive HVAC and process systems serving the electro-optics lab and the polymer synthesis area. The project's unique and complex schedule required N.B. Kenney to make multiple design alterations during construction to satisfy the needs of the end user while working within the physical constraints of the building. The final result: an award-winning project that combined engineered design with end user functionality.
"We are extremely proud of our work at E Ink's Innovation Center," said Robert Nims, executive vice president of N.B. Kenney.
New Boston Ventures planning 12-story residential tower on Greenway
Boutique real estate development firm New Boston Ventures LLC has submitted plans to restore the historic Bulfinch building and build a 12-story residential tower at 110 Broad St., a triangular downtown parcel adjacent to the Rose Fitzgerald Kennedy Greenway.  The 83,500-square-foot project will include 52 residential units and ground-floor cafe on a 7,580 square feet stretching from 102-112 Broad St.  "The project will continue the improvement of the area by filling in a gap along the Rose Fitzgerald Kennedy Greenway with ground-floor commercial space that will extend the pedestrian connection from the Greenway to Broad Street and provide amenities to the neighbors and building residents," New Boston Ventures LLC wrote in the plans.  The Boston Civic Design Commission heard a presentation from James Alexander of Finegold Alexander + Associates Inc. Architects, which designed the 110 Broad project, at its Feb. 3 meeting in City Hall.  The Bulfinch building, which dates back to 1805, would be restored and incorporated into the project as the residential lobby.  The facade of the residential building includes three separate types of materials: masonry, glass and steel.  The project would create 175 construction jobs. If approved by the BRA, construction would begin this summer and wrap up in winter 2016.
Baystate Franklin in Greenfield breaks ground for $26 million surgery modernization project
GREENFIELD - Baystate Franklin Medical Center hosted a ceremonial groundbreaking Thursday for its $26 million surgery modernization project.  It is a 55,000-square-foot expansion that includes four new operating rooms. It also includes renovation of the largest current operating room and relocation of the endoscopy unit so that it is directly adjacent to surgery.   Work began on the foundation in fall 2014. The building is expected to be completed in fall 2016.  Steffian Bradley Architects of Enfield did the design, Baystate said. Pearson Systems Inc. of West Springfield is the general contractor.  Baystate said the project entails a total of 80,000 work hours for tradespeople. It said that 90 of these construction workers will be from the Pioneer Valley and 91 of them union labor.
NCPWB has produced a second video to educate engineers about B31 Piping Codes and how the NCPWB helps contractors meet the codes' requirements.
The eight minute video is posted to YouTube https://www.youtube.com/watch?v=1TXPgaOioxs  and www.ncpwb.org 
For over 100 years, New England Mechanical Contractors Association has been a construction industry trade association representing premier mechanical construction firms throughout Massachusetts, Rhode Island, Maine, New Hampshire and Vermont. From building new large scale construction to servicing and maintaining existing facilities, our member contractors employ the most highly skilled and trained workforce in New England delivering cost-effective, timely results and staying abreast of leading-edge technology and industry practices.
We offer membership within the Mechanical Contractors Association, Mechanical Service Contractors Association, and the National Certified Pipe Welding Bureau. We support our member contractors through our educational seminars, labor and government relations, industry news and marketing. Committed to the future of our industry, we sponsor MCA student chapters at Northeastern University and Wentworth Institute of Technology in Boston. Our affiliation with the
Mechanical Contractors Association of America
and our strong, cooperative relationship with the
United Association
enables us to offer our members numerous opportunities to build lasting, beneficial relationships with peers while acquiring the business knowledge and tools to keep their company successful.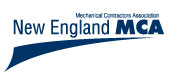 New England MCA
Serving the New England Mechanical Construction Industry by providing resources to help manage and grow business and by keeping members connected to changes in the industry. 

New England MSCA
The New England Mechanical Service Contractors Association works to advance and promote our contractors performing service and refrigeration work in the HVACR industry.

New England NCPWB
New England National Certified Pipe Welding Bureau - New England's resource to educate and promote compliance with welding codes and certification in the Pipe Welding Industry.NCPWB promotional video on YouTube:  NCPWB YouTube Video