New England Mechanical Contractors Association
For over 100 years, New England Mechanical Contractors Association has been a construction industry trade association representing premier mechanical construction firms throughout Massachusetts, Rhode Island, Maine, New Hampshire and Vermont. From building new large scale construction to servicing and maintaining existing facilities, our member contractors employ the most highly skilled and trained workforce in New England delivering cost-effective, timely results and staying abreast of leading-edge technology and industry practices.
We offer membership within the Mechanical Contractors Association, Mechanical Service Contractors Association, and the National Certified Pipe Welding Bureau. We support our member contractors through our educational seminars, labor and government relations, industry news and marketing. Committed to the future of our industry, we sponsor MCA student chapters at Northeastern University and Wentworth Institute of Technology in Boston. Our affiliation with the
Mechanical Contractors Association of America
and our strong, cooperative relationship with the
United Association
enables us to offer our members numerous opportunities to build lasting, beneficial relationships with peers while acquiring the business knowledge and tools to keep their company successful.
"Far and away the best prize that life offers is the chance to work hard at work worth doing."
--Theodore Roosevelt
Recent News
 July 2014                          
Wolverine Worldwide to move HQ to Waltham
Wolverine Worldwide has inked a deal with Boston Properties to move its regional headquarters from Lexington to a new 150,000-square-foot campus in Waltham.
Wolverine's local operations are housed in about 145,000 square feet of space at 191 Spring St. in Lexington, which is owned by Boston Properties. The company has about 450 employees in Lexington with plans to add more while using the new space more efficiently, said a source familiar with the transaction.
The deal is expected to trigger construction of Boston Properties' 10 CityPoint property, the latest addition to the company's 25-acre CityPoint development site in Waltham.
Wolverine will be relocating from Lexington as the anchor tenant for a planned 230,000-square-foot addition at CityPoint, located near the Winter Street/Totten Pond Road interchange off Route 128. A move-in date is schedued for June 2106.
In addition to the lease with Wolverine Worldwide, Boston Properties has signed additional CityPoint leases with Posto and Bonefish Grill.
Founded in 1883 and based in Michigan, Wolverine produces a variety of footwear brands including Keds, Stride Rite, Hush Puppies and Harley Davidson Footwear.
Nonresidential building activity on the rise for 2015: AIA Forecast
Washington, D.C. – July 28, 2014 – Due to the weather-related slow start in the nonresidential building market during the first part of the year, and the prolonged weakness in the institutional sector, construction spending projections for the rest of the year have been lowered slightly.  The commercial construction sector is still looking at solid spending increases throughout the remainder of 2014, paced by high levels of demand for hotels and office buildings.  The American Institute of Architects' (AIA) semi-annual Consensus Construction Forecast, a survey of the nation's leading construction forecasters, is projecting that spending will see a 4.9% increase in 2014 – down from the previous estimate of 5.8%, with next year's projection holding at 8%.
Algonquin Gas Details Pipeline Plans
 Salem MA – Documents filed with the Federal Government detail Algonquin Gas' plan to build a natural gas pipeline from Beverly Harbor to the Salem Harbor Station site.  The 16", 1.4 mile long pipeline would bring up to 115,000 dekatherms of natural gas each day to the proposed Footprint Power Plant on Fort Ave.  The pipeline, known as the Salem Lateral, is slated to be operational by 2015 and the plant is slated to open the following June.  Total construction time is estimated to be seven months, beginning next May, with working hours from 7 AM to 6 PM six days a week.
MassDevelopment Financing Package Helps High Point Treatment Center Expand
MassDevelopment has provided a $27 million financing package – $19 million in tax-exempt bonds and an $8 million New Markets Tax Credit allocation – to High Point Treatment Center and its affiliate, Southeast Regional Network. High Point, a nonprofit that provides comprehensive health services to individuals and families impacted by addiction, mental illness, domestic violence, and homelessness, is using bond proceeds to acquire a facility in Brockton and equip and build an addition to that building, creating 4,000 square feet for addiction therapy programs and primary care services. Southeast Regional Network is using a portion of the bond proceeds and the $8 million New Markets Tax Credit allocation to develop the former St. Luke's Hospital in Middleborough into a 64,000-square-foot, 72-bed, state-of-the-art treatment facility for psychiatric treatment. The building will also provide primary care, addiction therapy, and outpatient services. RBS Citizens N.A. purchased the bonds, which will also refinance previous debt and refund a prior tax-exempt bond. All told, High Point and Southeast Regional Network estimate the projects in Brockton and Middleborough will create 220 new jobs and 73 construction jobs.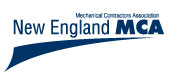 New England MCA
Serving the New England Mechanical Construction Industry by providing resources to help manage and grow business and by keeping members connected to changes in the industry.

New England MSCA
The New England Mechanical Service Contractors Association works to advance and promote our contractors performing service and refrigeration work in the HVACR industry.

New England NCPWB
New England National Certified Pipe Welding Bureau - New England's resource to educate and promote compliance with welding codes and certification in the Pipe Welding Industry.NCPWB promotional video on YouTube:  NCPWB YouTube Video