New England Mechanical Contractors Association
For over 100 years, New England Mechanical Contractors Association has been a construction industry trade association representing premier mechanical construction firms throughout Massachusetts, Rhode Island, Maine, New Hampshire and Vermont. From building new large scale construction to servicing and maintaining existing facilities, our member contractors employ the most highly skilled and trained workforce in New England delivering cost-effective, timely results and staying abreast of leading-edge technology and industry practices.
We offer membership within the Mechanical Contractors Association, Mechanical Service Contractors Association, and the National Certified Pipe Welding Bureau. We support our member contractors through our educational seminars, labor and government relations, industry news and marketing. Committed to the future of our industry, we sponsor MCA student chapters at Northeastern University and Wentworth Institute of Technology in Boston. Our affiliation with the
Mechanical Contractors Association of America
and our strong, cooperative relationship with the
United Association
enables us to offer our members numerous opportunities to build lasting, beneficial relationships with peers while acquiring the business knowledge and tools to keep their company successful.
"Far and away the best prize that life offers is the chance to work hard at work worth doing."
--Theodore Roosevelt
Recent News
November 2014               
State to convert Brockton facility into education collaborative
Gov. Deval Patrick on Monday announced the creation of a Downtown Brockton Education Collaborative, a $21.5 million project to renovate a building on Main Street and turn it into a learning center.  Three institutions of higher education - Massasoit Community College, Bridgewater State University, and the University of Massachusetts Boston - will provide programs at the site once the project is complete. Although details of the programming are still being developed, the education collaborative will provide training, certificate and degree programs for students, according to a press release from the state.  The $21.5 million earmarked for the education collaborative comes from the state's capital plan approved in July. The money will be spread in payments over five years and will pay for design and renovation of a parcel at 226 Main St. in Brockton. The city of Brockton recently sold the property to the state for $1.  In the current budget year, $700,000 of the $21.5 million in state capital funds has gone toward the project, according to the Massachusetts Division of Capital Asset Management and Maintenance.  The project's architect is Finegold Alexander in Boston. The property's existing building, built in 1927, has three floors above grade and one floor below grade and each floor has 9,600 square feet of living space.  A timetable for the project has yet to be determined.
Beechwood to launch upgrade in 2015
The Beechwood Hotel will undergo what it calls a "major" multi-million-dollar refurbishment that its owners say will upgrade the Worcester facility into a "modern, state-of-the-art, upscale boutique" hotel with the goal of making it the "most luxurious" west of Boston.  The owners, Dr. Charles and Janet Birbara, will work with Sayed Salah, president of International Hotel and Development, a Boston-based international luxury lifestyle hotel consulting firm, who will manage the renovation.   The project will redesign the hotel's rooms to feature "the ultimate in elegant design, world-class amenities, luxury bedding and linens, state-of-the-art communications, entertainment, distinctive art and decorative elements." There's a "high likelihood" that the hotel will add rooms, though plans are still being worked on.  The project will begin in the middle of 2015 and is scheduled to be completed by the middle of the following year. The hotel will remain open during that span, the statement said.  Dr. Birbara cited the strength of the Worcester economy as a key reason behind the renovations for the Plantation Street facility.
Artists for Humanity eyes $30M expansion in South Boston
The nonprofit Artists for Humanity revealed plans Monday that would add 63,500 square feet of space on nine floors to its existing structure in South Boston, building out a parcel of land that Procter & Gamble donated to the organization last year.  Susan Rodgerson, executive director of Artists for Humanity, said the $30 million construction project on the former P&G parking lot will create a taller new addition that will literally bolt onto Artist for Humanity's current three-and-a-half-story EpiCenter.  Artists for Humanity partners teenagers with professional artists to design, create and sell art products to clients that include companies and firms in Boston. The nonprofit's EpiCenter is located on A Street in South Boston.  When it is built, the new $30 million addition will be an Energy Positive, or E+, facility – the first such building in Massachusetts. Energy Plus means the new Artists for Humanity structure will generate more power than it uses, largely as a result of solar panels that will cover the roof.  The EpiCenter also features solar panels, she said, and is a platinum LEED certified building.  Rodgerson expects the project to be completed by the end of 2016.  Artists for Humanity still has about $15 million left to fund raise for the project. They expect between $20 million and $25 million of the total cost will be paid for with private and corporate donations.
Washington Square Hotel Plans Revealed in Worcester 
On Thursday night at Mount Carmel Recreation Center, representatives from First Bristol Corporation and Ventry Associates presented plans for a hotel at Washington Square to the Shrewsbury Street Neighborhood Association.  The hotel will be an extended stay hotel. It will feature 120 rooms (including six or seven handicap accessible rooms), 120 parking spaces, a large fitness center and a pool. There will be no restaurant in the hotel. Each hotel room will have a small kitchen area with a convection oven. There will be two meeting rooms that hold 25 people each.  The building will be six stories high to not block the view of Union Station from Interstate 290 and will cost between $15-$18 million to build. The presence of the hotel will generate as much as $350,000 a year in property and hotel taxes for the city.  First Bristol purchased the land for $150,000. Of that total, $100,000 is going into a labor fund for the city, and $50,000 will go towards Worcester Redevelopment Authority's operations.  The entrance for the hotel will be on Summer Street.  Next week, First Bristol will begin to drill to test the ground at the hotel's future site.
Quincy officials see new project jumpstarting downtown redevelopment
Quincy leaders, frustrated after a massive downtown redevelopment plan unraveled earlier this year, unveiled a more-modest but also well-financed plan Nov. 18.  The first component of the work will be a $100 million retail and 400-unit apartment project financed by Quincy Mutual Fire Insurance and Gate Residential Properties. Groundbreaking on a 169-unit apartment building is planned for early 2015 with construction complete in 2016. The six-story building is set to have 12,000 square feet of commercial and retail space.  A 220-unit second building, also with retail space, is set to follow.
Well-known developers team up for Cleveland Circle project
Boston Development Group and National Development said in a news release that they're forming a joint venture to do the work and that Charles River Realty Investors will provide the capital.  Ted Tye, managing partner of National Development, said in a prepared statement: "We are pleased to help bring development of this landmark site to fruition. There has been a great deal of effort put forth to date from the City of Boston, Town of Brookline, and the local community. Our combined team will work to move the project forward, with an anticipated mid-2015 construction start.  The project will be similar to a previously proposed 162-guest-room, 92-residential unit project. There also is likely be retail fronting to Chestnut Hill Avenue.  The architect for the project is said to be Elkus Manfredi Architects. Stantec is set to do civil engineering. Cranshaw Construction of Newton is involved in early work.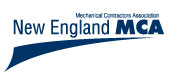 New England MCA
Serving the New England Mechanical Construction Industry by providing resources to help manage and grow business and by keeping members connected to changes in the industry.

New England MSCA
The New England Mechanical Service Contractors Association works to advance and promote our contractors performing service and refrigeration work in the HVACR industry.

New England NCPWB
New England National Certified Pipe Welding Bureau - New England's resource to educate and promote compliance with welding codes and certification in the Pipe Welding Industry.NCPWB promotional video on YouTube:  NCPWB YouTube Video