New England Mechanical Contractors Association
For over 100 years, New England Mechanical Contractors Association has been a construction industry trade association representing premier mechanical construction firms throughout Massachusetts, Rhode Island, Maine, New Hampshire and Vermont. From building new large scale construction to servicing and maintaining existing facilities, our member contractors employ the most highly skilled and trained workforce in New England delivering cost-effective, timely results and staying abreast of leading-edge technology and industry practices.
We offer membership within the Mechanical Contractors Association, Mechanical Service Contractors Association, and the National Certified Pipe Welding Bureau. We support our member contractors through our educational seminars, labor and government relations, industry news and marketing. Committed to the future of our industry, we sponsor MCA student chapters at Northeastern University and Wentworth Institute of Technology in Boston. Our affiliation with the
Mechanical Contractors Association of America
and our strong, cooperative relationship with the
United Association
enables us to offer our members numerous opportunities to build lasting, beneficial relationships with peers while acquiring the business knowledge and tools to keep their company successful.
"Far and away the best prize that life offers is the chance to work hard at work worth doing."
--Theodore Roosevelt
Recent News
 August 2014                    
James Hook & Co. lines up development
A developer representing James Hook & Co. is expected to present plans this fall to convert the Boston seafood retailer/wholesaler's site — a key underdeveloped waterfront parcel — into new residences or a hotel, according to sources familiar with the proposed project.  SKW Partners is expected to unveil the plans, including options for Boston Harborwalk connections, to the Downtown Waterfront Municipal Harbor Planning Advisory Committee at the end of September or in mid-October.  "The city has strongly encouraged them to stay within the (Rose Kennedy Greeenway) guidelines for height (of 175 feet)," said one source. "They're a bit over 200 feet."  A third generation of the Hook family manages the business, which got its start in 1925. Its current Atlantic Avenue operations — a retail seafood store with a limited lunch menu that includes lobster rolls — is housed in a small one-story structure after a 2008 fire virtually gutted the approximately 20,000-square-foot site between the old Northern Avenue and Evelyn Moakley bridges. The Hooks, who plan to maintain an expanded presence in the new development, did not return calls.  The Boston Redevelopment Authority acknowledged preliminary conversations about the site with James Hook representatives. "Any redevelopment proposal would be guided by the municipal harbor planning process, and Hook's representatives have expressed an interest in presenting to the (Downtown Waterfront) Municipal Harbor Plan(ning) Advisory Committee in the fall," spokesman Nick Martin said. 
New Marlborough hotel targets new businesses
A Hilton Garden Inn will be added to the Marlborough Hills development in Marlborough with developer CSM Lodging aiming to serve the needs of GE Healthcare Life Sciences and other incoming businesses.
"As major corporations continue to move into Marlborough, we recognized a need for a new, updated hotel to accommodate the area's growing community," said Bob Micklash, president of CSM. "We are excited by the activity within the immediately adjacent office park and could not be more pleased to make this venture a reality."

The hotel will be the newest in the area, featuring 160 rooms, a restaurant, bar, patio and business center. It will be housed in the same development where GE plans to base its healthcare and life sciences division next spring. Its 160,000 square-foot facility, located in the former Hewlett-Packard complex on Forest Street, will house more than 500 employees.

Marlborough Hills includes nearly 1 million square feet of commercial office space, 350 residential units and about 35,000 square feet of planned retail and dining space. CSM is target a first-quarter 2016 opening for the hotel.
GE life sciences division coming to Marlborough, will employ hundreds
General Electric has settled on Marlborough as the home of its health care and life sciences division, the company announced Wednesday morning.
The company, which ranks ninth on the Fortune 500, said its GE Healthcare Life Sciences division is moving its headquarters from New Jersey and making a $21-million long-term investment in a 160,000-square-foot facility which, when fully operational, will house more than 500 "highly skilled" employees and bring more than 220 jobs to Central Massachusetts.
The division will be located in Marlborough Hills, just south of Route 20 and west of Interstate 495, close to the Northborough border. The building, at 200 Forest St., formerly housed local operations for Hewlett-Packard. Quest Diagnostics, which provides clinical laboratory services, was to occupy part of the building upon moving into Marlborough this year.
The space will be transformed into state-of-the-art labs, customer application facilities, and office space, the company said in its announcement, and is scheduled to open in the spring of 2015.
Driven by manufacturing, new construction grows
New construction starts in July across the United States climbed 6 percent compared over last year, to a seasonally adjusted annual rate of $588.8 billion, according to McGraw Hill Construction, a division of McGraw Hill Financial.
According to the company, nonresidential building continued to advance, supported by what it said was "another robust month for manufacturing plant projects as well as improvement for commercial building." At the same time, it reported that residential building was unchanged from its pace in June.
The report showed that non-residential building, which includes manufacturing, hospitality, and health care among its categories, increased 7 percent to $229 billion (annual rate). Of that, the manufacturing plant category jumped 44 percent, reflecting the start of more chemical and energy-related facilities nationwide, the survey said.
At a $223.4 billion annual rate in July, residential construction held even with its June pace, according to the survey. Meanwhile, construction of single-family homes slipped 3 percent both nationwide and in the Northeast, the survey said.
Additionally, non-building construction, which includes public works and utilities, climbed 14 percent over July 2013 to an annual rate of $136.4 billion, McGraw Hill said.
Through the first seven months of 2014, total construction starts were at $311.6 billion (not seasonally adjusted), a 4 percent gain over last year.
By geography, total construction starts in the first seven months of 2014 revealed gains in only two regions – the South Central, up 18 percent; and the Northeast, (5 percent). The West was unchanged from the same period a year ago, while the Midwest (down 1 percent) and South Atlantic (3 percent) posted declined.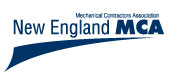 New England MCA
Serving the New England Mechanical Construction Industry by providing resources to help manage and grow business and by keeping members connected to changes in the industry.

New England MSCA
The New England Mechanical Service Contractors Association works to advance and promote our contractors performing service and refrigeration work in the HVACR industry.

New England NCPWB
New England National Certified Pipe Welding Bureau - New England's resource to educate and promote compliance with welding codes and certification in the Pipe Welding Industry.NCPWB promotional video on YouTube:  NCPWB YouTube Video