New England Mechanical Contractors Association
For over 100 years, New England Mechanical Contractors Association has been a construction industry trade association representing premier mechanical construction firms throughout Massachusetts, Rhode Island, Maine, New Hampshire and Vermont. From building new large scale construction to servicing and maintaining existing facilities, our member contractors employ the most highly skilled and trained workforce in New England delivering cost-effective, timely results and staying abreast of leading-edge technology and industry practices.
We offer membership within the Mechanical Contractors Association, Mechanical Service Contractors Association, and the National Certified Pipe Welding Bureau. We support our member contractors through our educational seminars, labor and government relations, industry news and marketing. Committed to the future of our industry, we sponsor MCA student chapters at Northeastern University and Wentworth Institute of Technology in Boston. Our affiliation with the
Mechanical Contractors Association of America
and our strong, cooperative relationship with the
United Association
enables us to offer our members numerous opportunities to build lasting, beneficial relationships with peers while acquiring the business knowledge and tools to keep their company successful.
"Far and away the best prize that life offers is the chance to work hard at work worth doing."
--Theodore Roosevelt
Recent News
December 2014               
Boston offering $20M for affordable housing projects
Boston Mayor Martin Walsh on Thursday said the city is offering $20 million through a competitive bid process to spur the creation of affordable housing.  The Dept of Neighborhood Development has put out two separate requests for proposals valued at $10 million apiece. The RFPs outline criteria for affordable housing projects, including: an efficient and reduced-cost building process; housing development targeting a mix of incomes; housing that serves the disabled, vulnerable and special needs populations; and housing that serves elders, veterans, artists and aging-out youth.  Mayor Walsh has made affordable housing a major priority of his administration through programs such as Boston 2030, which pledges the creation of 53,000 new housing units dedicated for a variety of incomes in the city by the year 2030.  The $20 million will be awarded by the Dept of Neighborhood Development and drawn from the city's inclusionary development fund, which previously had been controlled by the Boston Redevelopment Authority.
New England MCA Gives to Children's Hospital
New England Mechanical Contractors Association (MCA) and Mechanical Service Contractors Association (MSCA) members have been instrumental in working with Boston Children's to transform the new look and patient spaces at  the  Hospital.   As New England MCA celebrates its 125
th
Anniversary, the Association presented a gift of $25,000 to help support the hospital, its patients and families.  The donation is also in honor of the ongoing loyalty and working relationship between Children's Hospital and New England MCA / MSCA contractor members. On hand to present the donation were New England MSCA President Michael DiMattia – Chiller Technologies Inc., New England MCA Vice President Robert Gallagher – JC Higgins Inc. and New England MCA / MSCA Executive Vice President Stephen Affanato.  The donation was formally presented to Kevin Churchwell, MD – Executive Vice President of Health Affairs & Chief Operating Office, Charles Weinstein – Vice President of Real Estate Planning & Development, Robert Sullivan – Director of Facilities Construction & Facilities Management,  Paul Williams – Director of Hospital Engineering and Jane Hamel – Senior Director of Corporate Relations.  New England MCA / MSCA representatives were given a tour and were briefed on upcoming construction projects at Children's Hospital in Boston and their outlying facilities.
Boston development in 2014, by the numbers
Mayor Martin Walsh recently tallied up Boston's development and construction figures for the year.  During a speech to the Greater Boston Chamber of Commerce Mayor Walsh detailed the following statistics:
• $4 billion worth of new construction will have broken ground by Dec. 31, up 16.4 percent from the year before.
• 7.5 million square feet of total space will have been added.
• 12,000 construction jobs were supported this year.
• 3,859 housing units are under construction, on track to meet a target of 53,000 units by 2030.
The Boston Redevelopment Authority this year has approved an additional $3.7 billion worth of development, Walsh said, which is expected to translate into an additional 10 million square feet of space, 4,700 housing units and 11,000 construction jobs.
Worcester Planning Board OKs CitySquare apartments
WORCESTER —The Planning Board unanimously approved plans Wednesday night for the redevelopment of nearly four acres, bounded by Front, Foster, Franklin and Trumbull streets, into 370 units of market-rate housing.  The plans call for construction of two separate five-story buildings — one 263,497 square feet with 239 apartments and the other 142,130 square feet with 131 apartments.  Five percent of the housing units will be handicapped accessible.  In between the two apartment buildings will be a five-level, 479-space parking garage for residents of those buildings.  The garage, which will be connected to both residential buildings, will be 161,000 square feet, with three levels above ground and two levels below.  The larger of the two residential buildings — the one bounded by Front and Foster streets — will include roughly 12,000 square feet of street-level retail space. The smaller residential building will not have a retail component.  This phase of the CitySquare project is being developed by Roseland Property Co.  The buildings will also have about 7,000 square feet of amenities for residents.  Construction is expected to take two years to complete.
MGM Springfield to detail casino construction process at vendor information session at MassMutual Center 
Anyone looking to learn more about the construction process regarding MGM Springfield's upcoming $800 million casino complex is invited to attend an informational session Thursday morning at the MassMutual Center.   Kicking off at 8 a.m. with a presentation on the design and anticipated construction timeline, the event will also feature more than an hour of networking opportunities with MGM officials. Members of the public as well as contractors may attend to simply be informed or learn about how to pre-qualify for bid opportunities and to connect with building trade officials which will be detailing membership and apprenticeship opportunities.  MGM Resorts International is currently working to obtain all the necessary permits to break ground on the massive project on 14.5 acres in downtown Springfield. The company anticipates it will receive clearance from the Massachusetts Executive Office of Energy and Environmental Affairs by the end of this month.  The artist rendering of the MGM Springfield casino project shows the casino complex looking north on Main Street from the city's South End. The company hopes to break ground on the $800 facility in early 2015 and open its doors in 2017.   In February, MGM plans to announce the general contractor for the contract to oversee the development.   The project has been promised to create a minimum of 2,000 construction jobs and abide by an affirmative action program to meet hiring goals of 15.3 percent minorities, 6.9 percent women and 8 percent veterans.
MassDev funding 66-unit affordable housing complex in Chinatown
State to convert Brockton facility into education collaborative
Gov. Deval Patrick on Monday announced the creation of a Downtown Brockton Education Collaborative, a $21.5 million project to renovate a building on Main Street and turn it into a learning center.  Three institutions of higher education - Massasoit Community College, Bridgewater State University, and the University of Massachusetts Boston - will provide programs at the site once the project is complete. Although details of the programming are still being developed, the education collaborative will provide training, certificate and degree programs for students, according to a press release from the state.  The $21.5 million earmarked for the education collaborative comes from the state's capital plan approved in July. The money will be spread in payments over five years and will pay for design and renovation of a parcel at 226 Main St. in Brockton. The city of Brockton recently sold the property to the state for $1.  In the current budget year, $700,000 of the $21.5 million in state capital funds has gone toward the project, according to the Massachusetts Division of Capital Asset Management and Maintenance.  The project's architect is Finegold Alexander in Boston. The property's existing building, built in 1927, has three floors above grade and one floor below grade and each floor has 9,600 square feet of living space.  A timetable for the project has yet to be determined.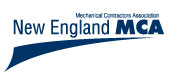 New England MCA
Serving the New England Mechanical Construction Industry by providing resources to help manage and grow business and by keeping members connected to changes in the industry.

New England MSCA
The New England Mechanical Service Contractors Association works to advance and promote our contractors performing service and refrigeration work in the HVACR industry.

New England NCPWB
New England National Certified Pipe Welding Bureau - New England's resource to educate and promote compliance with welding codes and certification in the Pipe Welding Industry.NCPWB promotional video on YouTube:  NCPWB YouTube Video